Gorgi Coghlan The Masked Singer Elimination Interview
Gorgi Coghlan on Her "Wonderful, Crazy and Bizarre" Masked Singer Journey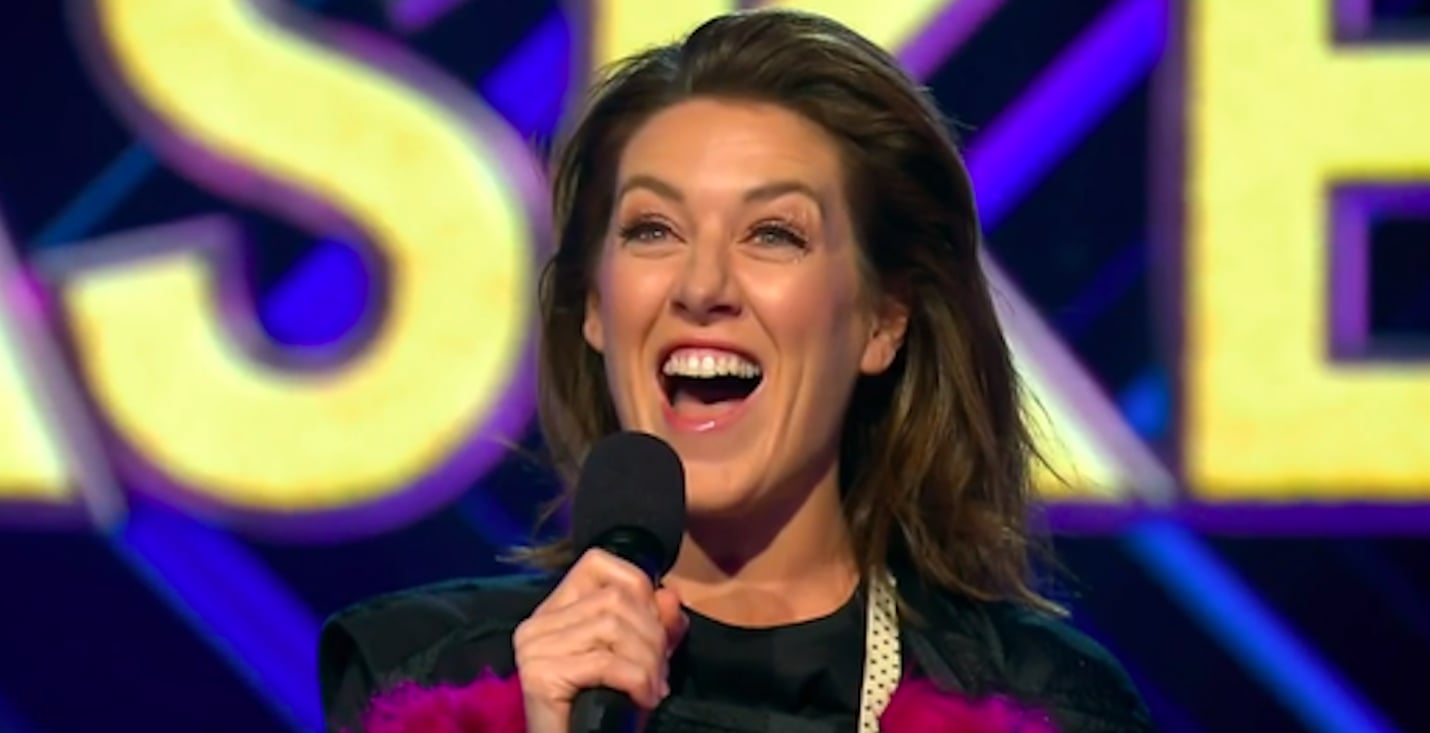 It's safe to say that Gorgi Coghlan is a woman of many talents. The former science teacher turned TV presenter publicly shared her beautiful singing voice when she appeared as Monster on The Masked Singer. Ultimately placing third, she beat out several fellow contestants who actively work as professional singers. Talk about an accomplishment! Below, she chats her motivation for doing the show and what's next for her singing career.
POPSUGAR Australia: Hey Gorgi! How does it feel to have it all out in the open now?

Gorgi: I'm just bloody relieved! It's been lie after lie for a couple of months now, so it's so nice that I can actually say, "yes, I was the Monster!" I can also finally tell my little daughter that mummy was the monster too. I felt that beautiful feeling this morning of elation and relief.
PS: I saw you mention on Instagram that you had to ignore several texts enquiring about the show, was the pressure mounting?
Gorgi: Totally! It's been so awkward because I'm a very upfront person, I'm honest and I can't lie very well. I also don't do small talk very well, people who know me say I'm direct, sometimes too direct. So my manager and I throughout this process both said, "this is just terrible, having to lie to all these people to their faces." Some people were really good about it, they sort of knew that asking would make me feel uncomfortable. But others, nope! They would outright text asking if it was me. I've kept all these texts for months and hopefully within the next couple of days I can get back to them all and apologise. Even when the part about my teaching background came up, I had assistant principals and former students text me. So giving them zero response felt really awful, but I think they'd all understand now.
PS: So, how many of your family and friends did know?
Gorgi: Only my husband, and my manager obviously. I knew my mum would probably keep it a secret, but I wanted her to enjoy the surprise and to discover it. It was the same with my daughter Molly-Rose, I was thinking she would tell the whole school that her mum was the Monster. I would then have to ultimately tell her to lie, which probably isn't very good parenting. So, we all watched it together last night at my house. There were lots of tears and champagne, and my little girl just burst into tears. I think it was a combination of exhaustion and relief. I think she was sort of worried if it wasn't me then she would have gotten really disappointed.
It's just been the most wonderful, crazy and bizarre journey, with the secrecy just the icing on the cake. We weren't even allowed to go to the toilet without a personal assistant to check if anyone else was in there. You weren't allowed to speak on stage, if you wanted a drink of water then you would have to signal to someone. It was a heavenly gig for me because I'm an introvert and I like to just do my own thing, so I found it just divine actually.
PS: In coming third, you beat out multiple people who are actively working in music. How did that feel as someone who's not currently working as a professional singer?
Gorgi: It was just really humbling. I have admired and just adore Kate Ceberano, and I adore Paulini and think her voice is just incredible. I was sitting backstage listening to Spider thinking, "who is Spider? That is just the most amazing voice." So, it was pretty nerve wracking to perform against them, we all sang live with only one shot at our song. So, that was pretty petrifying when I had to sing Celine Dion's 'All By Myself', it was a massive thing. Monster's costume was really hard to move in, and made it really hard to support yourself and use your diaphragm when singing. I suppose the answer is that I'm just so humbled, and I love that everyone connected to Monster. I remember meditating before every performance thinking, "just do this for the love and the joy of singing." Every time I got through was a bonus, and hopefully that's why people connected to me. Everyone said to me that they could feel the joy in my singing, and I was just loving every minute. It was a dream come true for me.
I've also just announced that tickets are on sale for my first solo show, which I'm really excited about! Monster's really helped kick my confidence into gear and to start doing what I've wanted to do for 20 years. I just so honoured that I was there. What was so lovely is that none of us ever saw it as a competition, it was always just about doing something that stretched you beyond your comfort zone really. It's unlike any other singing competition, because the judges didn't comment things like, "oh you didn't get that note right," or "you lost your tone." It was never about that, it was behind who was behind the mask and the showmanship of the mask.
PS: I was planning on asking if you intended on pursuing singing more publicly now, so that's awesome to hear about your show!
Gorgi: Yeah, once the show finished [filming] and I felt so great about it, I told my manager that this is what I wanted to do. I'd wanted to do a a live show for so long but it hadn't aligned. This time it all just felt right, so this now is a great chance for people to see the repertoire that I do, and I really hope that this is a stepping stone to me doing more singing. I'd love to do musical theatre again, and to do all sorts of things involved with singing. Before this show, I was always worried that people would go, "oh God, she's one of those TV people who's trying to sing." It took a show where you couldn't see my face and that just focused on my voice to get me there.
PS: Last night you mentioned that it was your mum and her brain cancer diagnosis that really inspired you to do the show. So, can you tell us a bit more about her journey and how that motivated you?
Gorgi: Well I watched my mum have chemo, and we didn't know if she was going to come out the other side. It was pretty frightening and confronting. It makes you think about your own life and your mortality, and you realise how fragile it is. I would sit there when I was with her thinking, "life's short and fleeting, what haven't I done in my life?" So that was definitely part of what made me think, I have this talent, which am I wasting it? Then another part of me felt disappointed in myself, because all my mum had ever wanted was for me to use my voice more, and I hadn't done that for her. So, there was a little bit of guilt there. But it was such an inspiration for me to embrace opportunities and throw myself into them. When this show came up I just knew that this was the one. I said to my manager, "this is the one, I can feel it, this is it."
PS: It sounds like the show worked out to be perfect timing for you in many different ways. . .
Gorgi: It really did! It's one of those things that happen in life when things all align, the stars connect and everything falls into place. I just felt it had that magic, and I was just bloody lucky to be a part of it, to be honest!
PS: How did you end up being given the Monster persona? As cute as Monster was, it didn't necessarily seem like a natural alignment with you. . .
Gorgi: You know what, I found it really interesting that they somehow managed to align elements of our personality to the costumes pretty well. I think the one thing that they aligned with me really well was the vulnerability of Monster. There was a vulnerability where you felt sorry for her, she wore her heart on her sleeve and that's me as well. I'm so open with my emotions, everyone on The Project would tell you that I'm constantly banging on about manifesting and things like that, that's my style of personality. I feel like they really did nail the vulnerability part of me, because I am an introvert and I do prefer to do my own thing and be out of the spotlight. That's a part of my personality that people probably don't see on The Project, so someone was very smart when they looked at that. Who would have thought that by wearing a big fluffy mask I'd become more confident to be more vulnerable? It's ironic!