Weight Loss After PCOS Diagnosis
Maria Lost 38 Kilos After Her PCOS Diagnosis by Committing to This Intense Workout
When Maria Roiz realized she could no longer fit into any of her clothes, she knew it was time for a serious change. Even though she had been diagnosed with polycystic ovarian syndrome (PCOS) at age 16 — a common hormone imbalance that is known to cause weight gain — she knew her unhealthy eating habits were also to blame and one of the main reasons she had become overweight at 99 kilos.
Maria: Before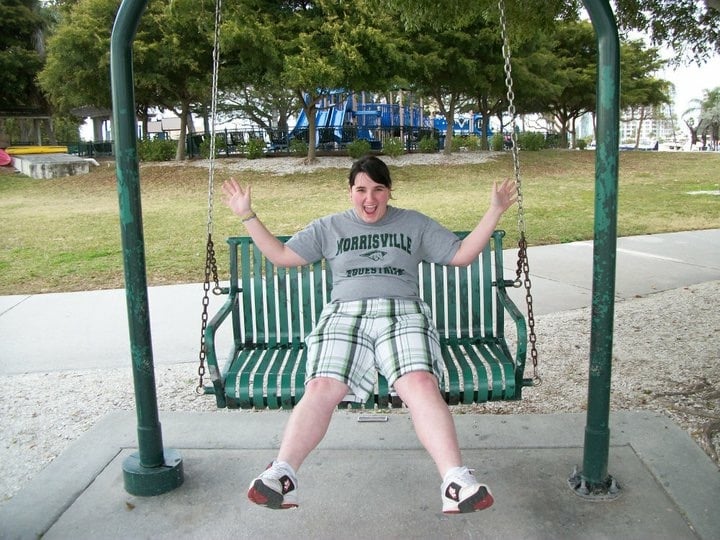 Still, Maria wasn't obsessed about getting to the lowest weight possible. She simply wanted to become a healthier, stronger, and better version of herself. After trying out an obstacle course race for the very first time, she was hooked. Little did she know, Maria would lose 38 kilos thanks to her new passion — and even continue on to become an obstacle training coach.
Maria: After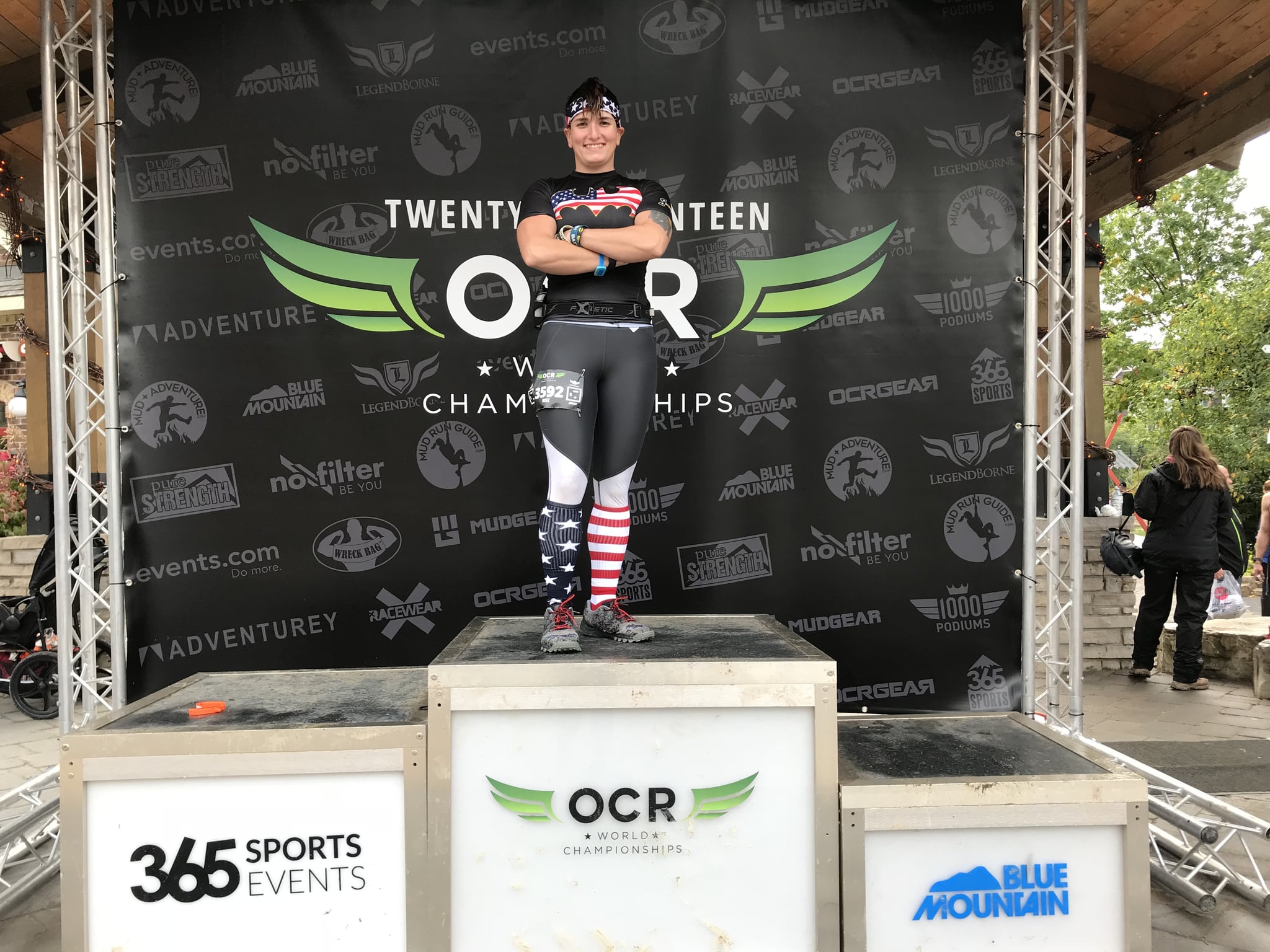 POPSUGAR: At what age were you first diagnosed with PCOS? What were your symptoms?
Maria Roiz: I was diagnosed with PCOS at 16 years old. My menstrual cycle stopped a few months before I turned 16, and I experienced hair growth on face, neck, and abdomen. I also had the infamous PCOS symptoms of weight gain and difficulty losing weight.
PS: How did you get treated for PCOS?
MR: I was required to go on birth control so that my menstrual cycle could start again. After being diagnosed, my doctor monitored my hormone levels. He also monitored my blood pressure, weight, body hair growth, and abdomen measurements, and I received blood tests regularly. I continued seeing an endocrinologist every six months until I turned 18, and I've been monitored by my gynecologist ever since then.
PS: What was your heaviest weight?
MR: In January of 2011, I was 20 years old and I was at my heaviest weight. I had reached 99 kilos. PCOS definitely played a role in the weight gain. It was a never-ending battle. And as much as the birth control was helping with the PCOS, it wasn't helping me keep the weight off.
PS: In addition to PCOS, were there other factors that contributed to your weight gain?
MR: I was a picky eater my whole life. I wasn't active and I ate whatever I wanted, when I wanted. I also played video games often. Even though I spent a lot of time outdoors, I ate really poorly (tons of junk food and soda), which was kind of canceling out any physical fitness I did. The weight gain was bound to happen.
Maria: Before and After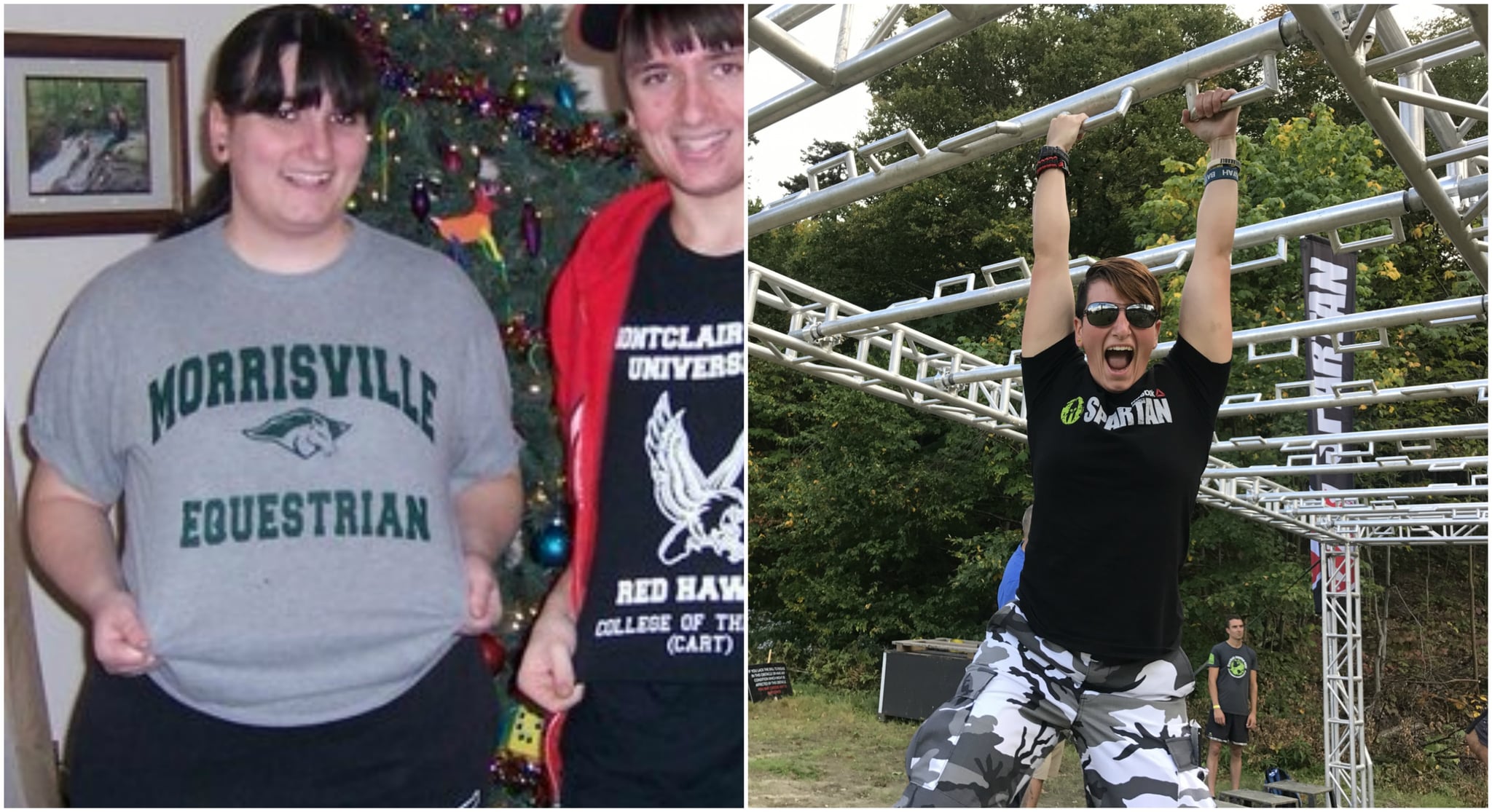 PS: What was the turning point for you that made you want to start becoming healthier and make a serious change?
MR: In the same exact month I had hit my heaviest weight — that January in 2011 — I went shopping for new pants, because I didn't fit into any of my clothes anymore. As I pulled up a pair of jeans in the fitting room, I completely broke down in tears, because I had realised I needed an even bigger size than I thought I would. That following week, I decided it was time to make a change.
PS: You've made quite a name for yourself now in the world of obstacle course racing — what made you want to sign up for your first race?
MR: My high school friend Mike always did the Spartan Races whenever they were held in our town. They looked really cool and badass. When I was younger, I always wanted to join the military, but I wasn't absolutely sure so I never signed up. When I first saw the Spartan Race and all the obstacles, it made me think of boot camp and reminded me of all the reasons I considered the military. I was already in the process of losing weight and hitting the gym at this point, getting stronger. I thought a Spartan Race could be a good way for me to see the results of all the hard work I had had done so far — I could really test myself and see what I was capable of. After two years of weight loss and working on my cardio, I did my first race in May of 2013 with friends, including Mike, and my new boyfriend, David. We had a blast. I did so many burpees. I had no idea what I had gotten myself into. It took me almost five hours to finish the race, but I was smiling the whole time and absolutely loving it. It was humbling.
PS: After your first obstacle course race, how did you continue to stay in shape?
MR: After my first race I was so proud of myself, and I wanted more. I had new goals to achieve at the gym and I started to go more often. I wanted to be faster. I worked on techniques so I could come back and conquer some of the obstacles I had failed the first time around — these races were an adrenaline rush and gave me a new purpose. Although my diet improved over the first two years of my lifestyle change, I continued to look deeper into diet for energy and recovery purposes. I still had more weight to lose, but now I was able to focus on exercises that would make me a better racer and not just skinny. I was getting stronger and leaner.
PS: How much weight have you lost since you were at your heaviest weight?
MR: At one point, I was down to 61 kilos — so that is an 38-kilo loss. I am not at that weight now, but it doesn't bother me. A healthy weight for me is 65 kilos — at that weight, I look great, I have muscle, and I can achieve a decent speed when I race. But regardless of my weight loss, I've learned that you can't rely on the scale. I can weigh 68 kilos and still be in good shape — muscle weighs more than fat, so you have to rely on the way you feel, how you look, and how you perform.
PS: Do you still participate in obstacle course races today?
MR: I just did a race yesterday, and I have so many more races to look forward to this year. There is always room to grow, so this year I have signed up for more endurance-style races. They are longer and they push you harder, mentally and physically. I have been brought to my breaking point and mentally conquered myself to not give up, but I always push forward . . . in the end, it's so gratifying. Just like weight loss, I could give up and eat doughnuts and Big Macs — but in the end, all the hard work is so much more worth it because of how amazing I look and feel.
Maria: Before and After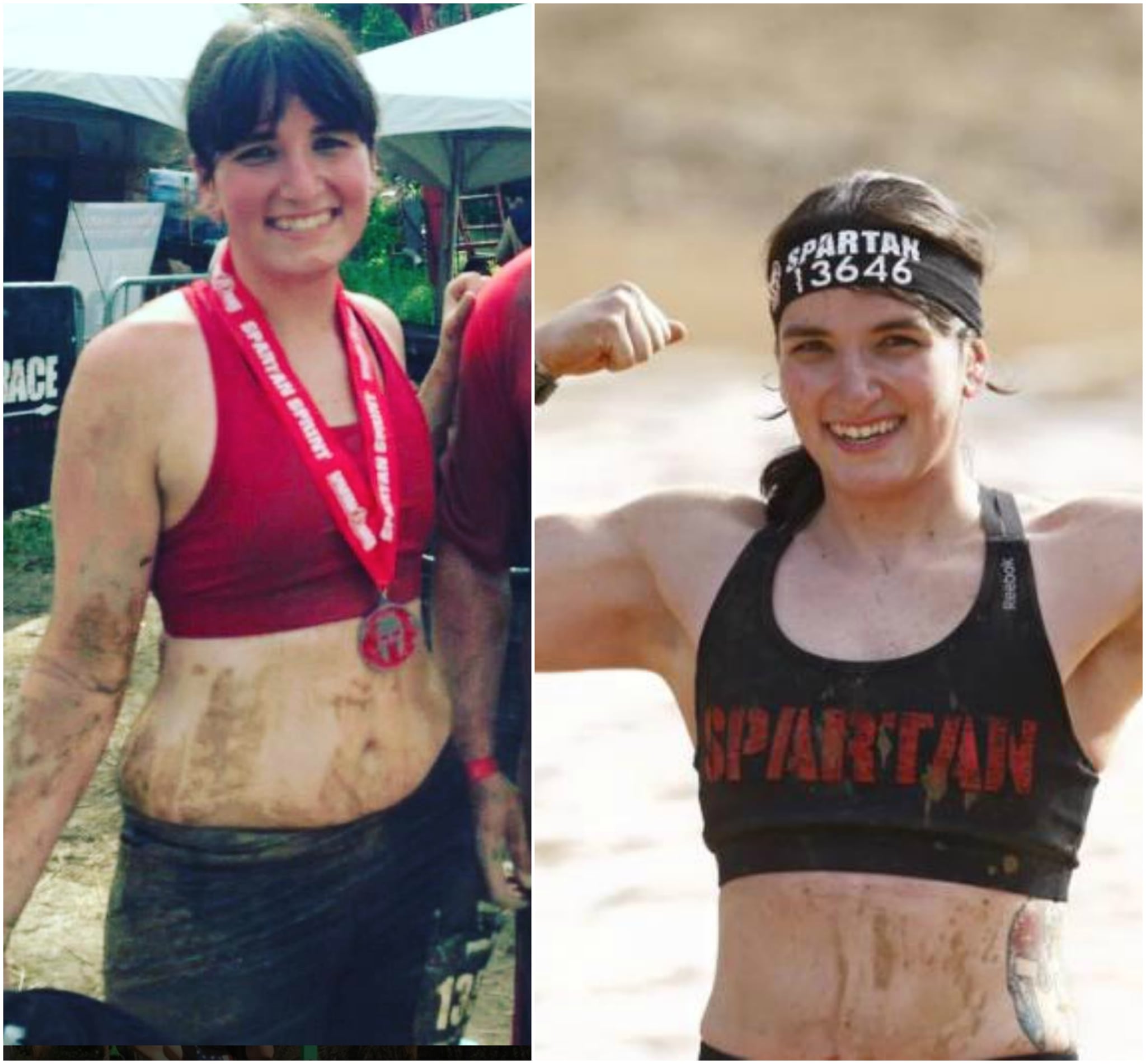 PS: How has obstacle course racing impacted you, aside from your weight loss?
MR: I have been racing for five years now. I am happy and humble, and I can't see myself stopping. I love it so much. I always pass on what I know about racing to other competitors, and encourage them to stay motivated. I am a coach now at one of the biggest training facilities in the DC, Virginia, Maryland area, at OCR Unleashed. We train some of the top elites in obstacle course racing and people who are just getting into it for the first time. We show them the techniques on the obstacles that you'll see at most of the big-name obstacle course races. So many people have seen me race and know my story. My story motivates others to achieve their goals. I let them know that anything is possible if you put in the work and believe.
PS: Fast forward to present day . . . what is your lifestyle like right now?
MR: I am always looking for something to test myself. I still race and push the limits. I train almost every day. If I am not training, I am resting prior to, or after racing in, an event. Racing and training is my life. I think about everything I am going to eat and all the exercises I am going to do days or, sometimes even a week, in advance. Fitness is always on my mind. My life revolves around my events and I'm OK with that — I know I am living a healthy and much better lifestyle than before. This is my purpose in life, and it motivates others so I don't see why I would ever want to quit.
PS: Do you have any advice for other girls and women who are struggling with PCOS symptoms, who are looking to get in shape and take control?
MR: Take control of your life and do the work. If you want to be happy and live a long, healthy life, you have to do the work. You can tell yourself you are going to do something about it, but until you actually do it, nothing is going to happen. It sucks to get diagnosed with anything, it sucks to do the work, but you have to embrace it, accept it, and get it done. When the hard work is done it's all worth it.
There's no pill that fixes everything; it may help, but you still need to do the work. My races are my treat, my vacation. The real work is everything I do up until a race. You train hard, then you play. Find people who motivate you. I didn't do this all by myself. I used my voice and asked for help. When I was in the gym, I asked strangers for help and advice, and they helped me. When I am stuck at an 8-foot wall obstacle, I turn to a random racer and ask for a boost and they are always willing to help. There are people out there willing to help. I'll help. You just have to put in the work. I can help lift you up the wall, but you have to go over it.
Image Source: Maria Roiz