Steph Claire Smith and Laura Henshaw on Mental Health
Why Steph Claire Smith and Laura Henshaw Want You To Focus On Your Mental Health
When it comes to health and fitness there's always been a huge focus on diet and exercise, we're always super keen try out all the latest boutique fitness trends and health food crazes all in the name of being healthy. But often we forget that our mental health is equally as important as our physical, if not more so.
Keep It Cleaner founders Steph Claire Smith (now Miller) and Laura Henshaw are all about striking the perfect balance between you physical and mental health, so they've introduced a new 'Wellness Hub' in the KIC app to help users diversify their workouts and bring more attention to exercising and calming the mind via meditation, yoga and pilates. We chatted to them about building their empire, their mental health journey's and the pressure to keep up on social media.
POPSUGAR: The KIC empire was originally built around fitness programs and healthy recipes, what made you want to expand into wellness? Was it a personal journey that lead to this new addition?
Steph: We've always been really passionate about living a wholesome life but still keeping things simple. When we first started KIC we wanted to simplify the way people look at fitness, food and life, as well as make it really accessible to all. The wellness hub was a natural addition to what we already provide the KIC community through the app.
Laura: People are always so focused on working out and eating well but we often forget to give back to our mind. We both love using Pilates, yoga and meditation as a way to switch the focus to our minds and winding down, we wanted to share this with the KIC community.
PS: What can users expect from the wellness hub?
Laura: The Wellness Hub has meditations that vary from 5-20 minutes. There are 40 different meditations that are broken down into categories of sleep, stress, anxiety, body love and motivational so you can choose based on your needs. We wanted this to be as personalised as possible. There are also different routines for Pilates and yoga workouts too which is super hard on the body but also relaxing on your mind — the perfect combo!
PS: Is it designed to use in conjunction with the fitness programs?
Steph: We want to promote a simple, holistic lifestyle so we definitely encourage our KIC squad to use the Wellness Hub in conjunction with our easy recipes and workout programs to get the most out of our app.
PS: Steph, we watched an Insta story of yours recently where you revealed that you have struggled with meditation. Do you have any tips and tricks for calming the mind?
Steph: I just find that I have a million things on my mind at once and so I sometimes struggle to sit still. It's times like that when there's so much going on that it's important to stop and check in with yourself. I've found following our guided meditations the easiest way to get into it. Now that I have been doing it for a while it's not as uncomfortable or awkward, it's getting easier and easier. Go easy on yourself when you're getting started with it. Release the pressure you hold on yourself and remind yourself why you want to get into it in the first place.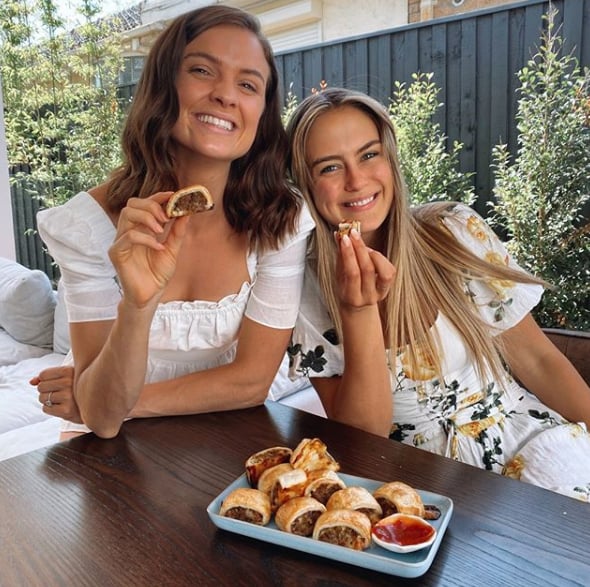 PS: Laura, you recently opened up on Instagram about the highs and lows of it all and how it can often get overwhelming. What do you do to calm your mind and relieve anxiety?
Laura: I think it is really important to remember that life is definitely not all highs (which is what it often seems like on social media), and lows are completely normal but it is really important to find your own personal coping mechanisms for when this happens to you. Moving my body, in less strenuous ways like doing a KIC Yoga Flow or going on a slow jog and getting outside is something that really helps me as well as our KIC meditations. Everyone is different but it is so important to try and be as self-aware as possible when you need some more self-love.
PS: You both have massive Insta followings. What is your advice for coping with the stress that comes with social media?
Laura: I think working in the industry and seeing the BTS has made a real difference to how I feel about social media. I have seen first-hand how far removed it can be from real life, and so I find now I can cope with the pressures that come from it a lot more than I used to be able to. My advice would be to clean up your social media and only follow people that inspire you and make you feel good. I think we forget that we are in charge of who we follow and sometimes need a reminder to take control of that.
PS: What advice would you give young women who struggle with food and exercise related guilt?
Laura: This took me a long time to overcome and it is important to remember that it is a journey. I still have my days where I feel guilty but I now have coping mechanisms to get away from this mindset and the days are few and far between. Our Keep it Cleaner community has helped me so much with this, if I ever feel myself feeling guilty, I will always check in with them and I instantly feel better about myself. It is important to remember that what we eat and the exercise we do does not define who we are or our value and we should never feel guilty for eating food we love or skipping a workout.
Steph: Know that you're not alone. Even someone like me who is completely comfortable in their own skin and has come a long way in finding a balanced, healthy lifestyle still has days or moments when guilt creeps up. We can be our own worst enemies when it comes to that guilty voice inside . . . know that you don't need to listen! Next time you say something negative to yourself or put yourself down because you're feeling guilty for something, tell yourself to stop and turn it around into something kind and positive.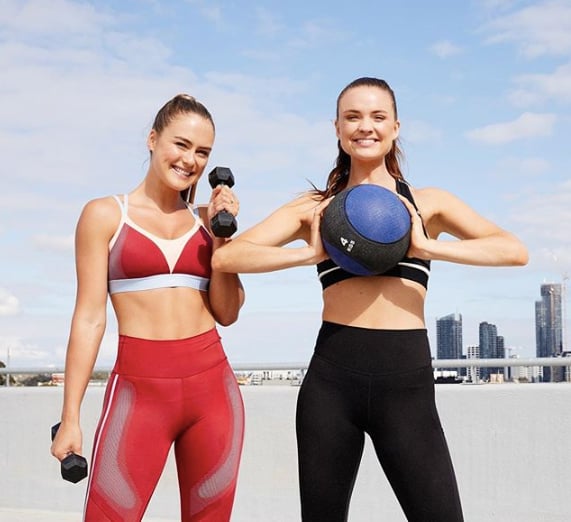 PS: What is the one thing you both do every day for yourselves (that isn't exercise)?
Steph: I cuddle and kiss my two favourite boys, my dog Ari and my hubby Josh. Something else I do for myself each week is spend time by myself - whether it's an hour in the bath or a walk to the park . . . I love my alone time.
Laura: I take my dog Billy to the park or beach with my partner. I love that no matter what dogs are always happy to see you and full of so much love.
PS: What advice do you both have for brides-to-be around managing wedding related stress?
Steph: As a bride you are always going to stress no matter how organised you are! That's why it's so important to make sure you are happy and healthy with yourself before the big day. I hope that nobodies stress is around the way they look — people are so quick to ask if you're on a "wed shred" of what you are changing about your routine in the lead up to the wedding. I hope when other brides hear those things, they don't feel like they need to change anything. If you're happy in your skin or happy living the way you do, don't add to your wedding stress by stressing about your body too!
Laura: I know that I'm planning my wedding for next year and managing stress is a big thing for me, that's why we love our new Wellness Hub on KIC. It's an easy way to give back to busy minds every day.