Uma Thurman Accuses Harvey Weinstein of Sexual Assault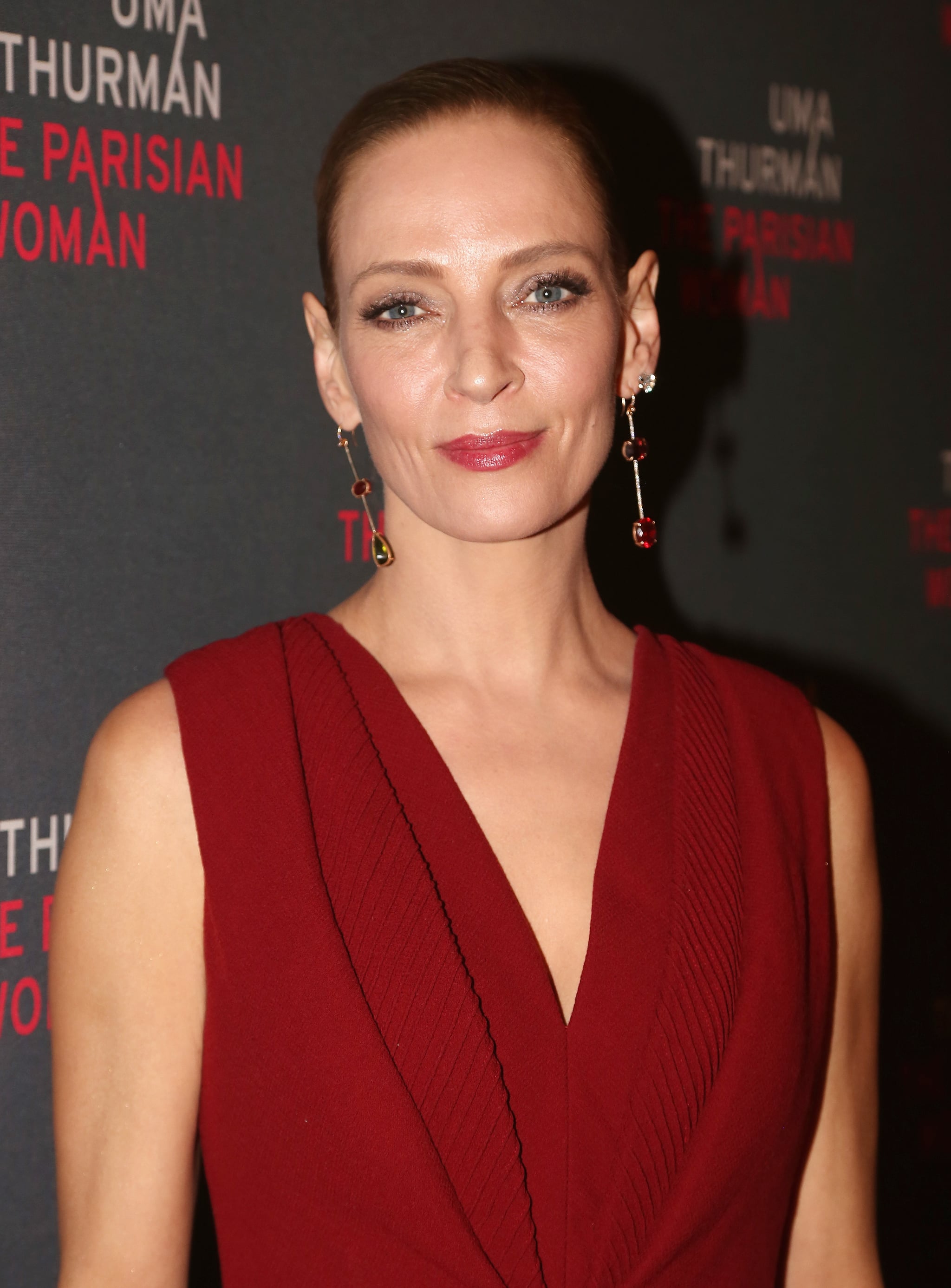 On Feb. 3, The New York Times published a story of Uma Thurman's account of having been sexually assaulted by Harvey Weinstein. In a previous interview with Access Hollywood, the 47-year-old actress said she was waiting "to feel less angry" before she shared her own story, and the time has finally come.
Uma recalls Weinstein's "attack" on her happening in his suite at the Savoy Hotel in London after the release of the 1994 hit movie Pulp Fiction, which is credited as her breakout role:
"It was such a bat to the head," she said. "He pushed me down. He tried to shove himself on me. He tried to expose himself. He did all kinds of unpleasant things. But he didn't actually put his back into it and force me. You're like an animal wriggling away, like a lizard. I was doing anything I could to get the train back on the track. My track. Not his track."
She went on to say the disgraced 65-year-old producer sent her an arrangement of yellow roses the next day. "I opened the note like it was a soiled diaper and it just said, 'You have great instincts.'" Uma said that after that, his assistants started calling again to talk about the two working on other projects together. She decided to arrange a meeting with Weinstein at the Savoy Hotel bar to talk about what happened but had her friend Ilona Herman go with her. His assistant convinced her to go up to his room while Herman waited by the elevator in the lobby. When she got up there, Uma says she warned Weinstein, "If you do what you did to me to other people you will lose your career, your reputation and your family, I promise you." She has no memory of the rest of the meeting. Meanwhile, Herman waited what "seemed to take forever" for the actress to come down:
"She was very dishevelled and so upset and had this blank look. Her eyes were crazy and she was totally out of control," she said about Uma's appearance after exiting the elevator. "I shovelled her into the taxi and we went home to my house. She was really shaking." Herman said when Uma was finally able to talk again, she told her that Weinstein had threatened her career.
Using a spokesperson, Weinstein admits propositioning the actress but denies threatening her career. "Mr. Weinstein acknowledges making a pass at Ms. Thurman in England after misreading her signals in Paris," the spokesperson told The New York Times. "He immediately apologised." He also released a lengthier statement after Uma's story broke with photos of the two over the years to prove "the strong relationship Mr. Weinstein and Ms. Thurman had had over the years and we wish the New York Times would have published them."
The "signals in Paris" Weinstein is referring to is a meeting he and Uma had where they were arguing about a script when he put on his bathrobe. "I didn't feel threatened. I thought he was being super idiosyncratic, like this was your kooky, eccentric uncle." He told her to follow him down a hall, through a door where there was a steam room. "I was standing there in my full black leather outfit — boots, pants, jacket. And it was so hot and I said, 'This is ridiculous, what are you doing?' And he was getting very flustered and mad and he jumped up and ran out." After their second meeting in London, Uma went on to work with Weinstein in movies like A Month by the Lake, Beautiful Girls, Kill Bill Vol. 1, Kill Bill Vol. 2, and Burnt but considered the producer an enemy.